By the Numbers: Leadership Alliance Academic-Year Workshops
The Leadership Alliance is often recognized for its flagship Summer Research Early Identification Program (SR-EIP), but we are also developing programming for students during the academic year. We believe that focused, skill-oriented workshops can be a powerful complement to summer research experiences by priming for future research.
As the fall semester begins at institutions across the country, it is an excellent time to consider the impact that academic-year programming can have on research awareness and research skills for undergraduates.
For the past two years, the Leadership Alliance has gathered data from students participating in its academic year workshops at five pilot schools: Spelman College, Morehouse College, Vanderbilt University, the University of Chicago, and Brown University. Each of the five schools has held two workshops during the academic year, one entitled What is Research? and one entitled Collaborative Learning.
These workshops are intended for first-year students, though students at all levels of their academic careers may participate. What is Research? introduces students to the content and scope of a research career and covers how to apply for summer research opportunities. Collaborative Learning provides an overview of the benefits of forming a collaborative learning group, its potential role in group research, as well as the tools necessary for starting and maintaining one in research and in an academic setting.
After participating in What is Research? students reported a favorable view of research careers and indicated that they would think more about how research careers might fit their interests. We also found that the workshop helped students to better understand the benefits of research opportunities whether a student came to the workshop interested in research opportunities or had not yet thought about them.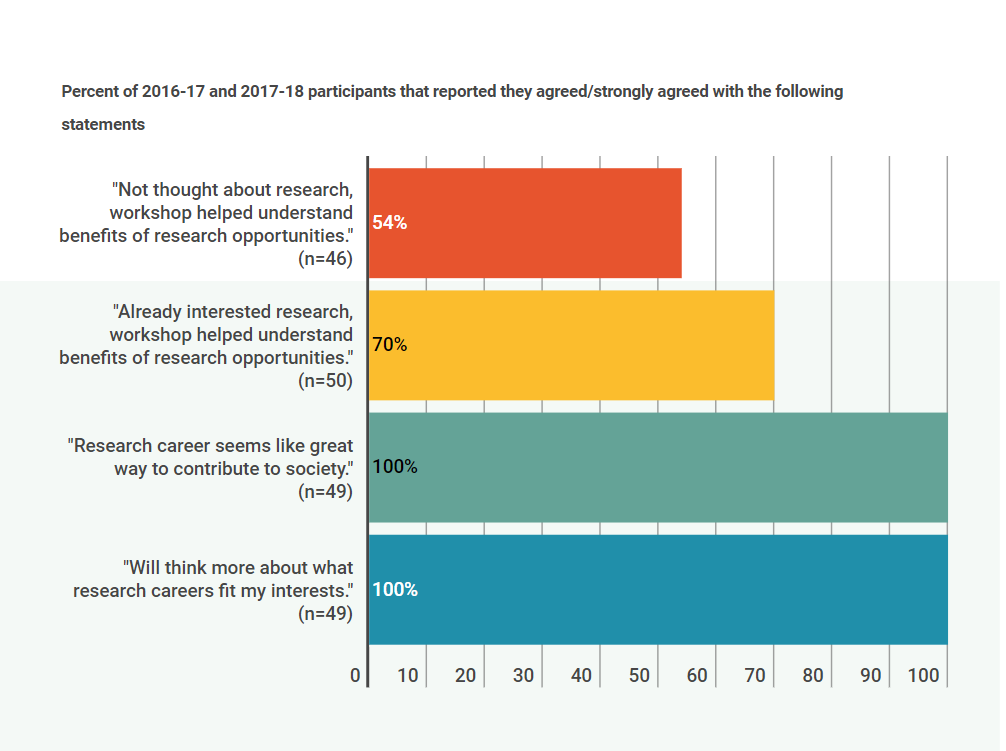 At the close of the 2017-2018 academic year, we followed up with students to see if they conducted research during that year and if they planned to do so during the 2018-19 academic year. Of the 23 students who responded to the follow-up survey, just 30% (7 of 23) had the opportunity to conduct research during the 2017-2018 academic year (the year they participated in the workshop). By contrast, nearly all (87%, 20 of 23), intended to conduct research during the 2018-19 academic year.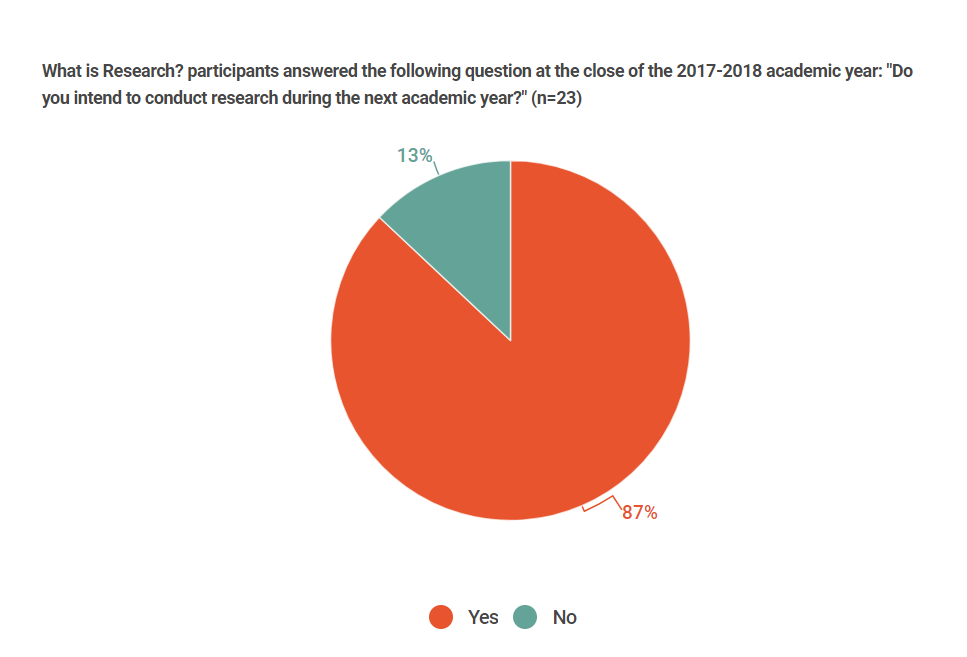 Collaborative learning groups are a well-documented best practice for students in both classroom and research settings. Students who participate in our Collaborative Learning workshop should leave with the skills and knowledge necessary to start collaborative learning groups with their peers in their courses and in the service of team research when needed. The students who filled out our evaluation surveys almost universally reported being willing to participate in collaborative learning groups and understanding all of the skills to do so. Fewer students (52% in 2016-2017, 66% in 2017-2018) reported planning to follow-up and schedule a collaborative learning workshop with their peers in the workshop. These lower rates are likely due to students in most workshops not having shared projects or courses at the time.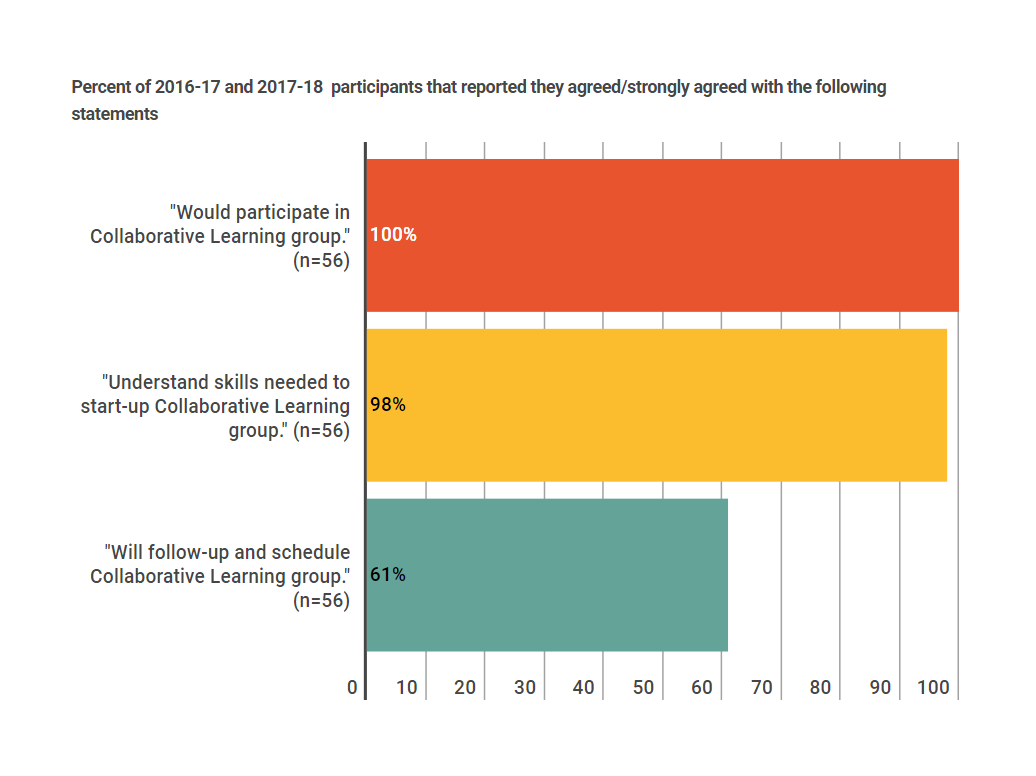 Overall, these data point to positive views of research opportunities among students who participate in these workshops. They also indicate that a meaningful segment of undergraduates have not thought about research opportunities, but would like to learn more after such opportunities are described to them at the workshops. Consistent with these data, our follow-up surveys indicate that students participating in What is Research? intend to conduct research during the subsequent academic year. In the case of Collaborative Learning, we see a clear willingness among workshop participants to join collaborative learning groups and confidence that they can start-up and maintain collaborative learning groups.
We continue to track outcomes such as participation in research experiences and collaborative learning groups to see the effects of increased understanding of the value of research opportunities and collaborative learning groups. To learn more about these efforts or to host workshops at your institution, please contact Dr. William Wittels at William_Wittels@brown.edu.