Gear up for the job market with resources from Leadership Alliance Partners
The job market can be a challenge to navigate. That's why we're pleased to share resources presented by two Leadership Alliance partners during the Leadership Alliance National Symposium as part of the Career Development Workshop this past summer.
Dr. Barbara Schreiber, Dr. Fadie Coleman, and Farrah Belizaire, from BU's BEST presented data from LaborInsight™, which can simplify the process of zeroing in on the hottest labor markets, the most actively hiring employers, and the most in-demand skills. For example, a search for jobs in Academic Research produces the following heat map:


Similarly, a search for computer skills mentioned in academic research job postings in the biomedical sciences identifies Microsoft Excel, Python, and SAS as the most in-demand skills. Moving beyond academic research positions, a job candidate searching for business and administration jobs could identify Medical Science Liaison, Program Manager, and Business Development Associate as the frequent job titles in postings. Whatever your search, LaborInsight™ can help you conduct it effectively. See the full slide-deck here.
For job-candidates unsure about how to most effectively identify and highlight their job skills and experiences for prospective employers, Lauren Celano, CEO of Propel Careers presented advice on how to zero in on roles and organizations aligned to candidates values interests and skills. For example, she recommends creating a comprehensive checklist to determine what you want from a job.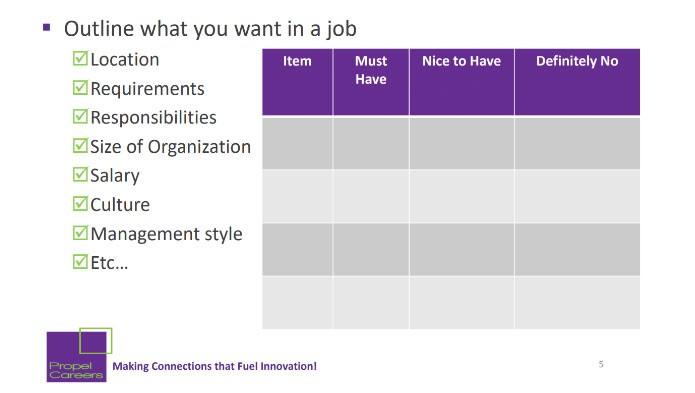 From there, candidates can ask the right questions about potential opportunities and conduct effective informational interviews. They can also hone in on how well their current skillset matches the jobs that best fit their interests. Armed with that information, job candidates will be better positioned to take on the job-market or add skills to their skill set in preparation for doing so. See the full slide-deck here.